Are you tired of dealing with the hassle of soil and the constant worry of over or underwatering your houseplants? If so, it's time to consider growing plants that thrive in water!
This innovative and low-maintenance method, known as hydroponics, allows you to cultivate various houseplants without needing soil. Not only does it simplify the care process, but it also opens up a whole new world of creativity in displaying your greenery.
In this comprehensive guide, we'll explore everything you need to know about growing plants in water (no hydroponic systems needed!), including the best species to choose, the ideal containers to use, and the essential care tips for success.
Why Choose Plants That Grow in Water?
Houseplants bring life and beauty to our indoor spaces, but their upkeep can be a challenge. From finding the right watering schedule to dealing with pests and soil maintenance, traditional plant care can be time-consuming and overwhelming.
However, by opting for plants that grow in water, you can enjoy the following benefits:
Low Maintenance: Plants grown in water require less care compared to their soil-grown counterparts. With no soil to worry about, you eliminate the risk of over or underwatering, making it ideal for busy individuals or those with a tendency to neglect their plants.
Mess-Free: Say goodbye to soil spills and the hassle of cleaning up after repotting. Growing plants in water eliminates the mess associated with soil, making it a cleaner and more convenient option.
Pest Control: Soil-borne pests, such as fungus gnats, can wreak havoc on your indoor plants. By growing plants in water, you significantly reduce the risk of pest infestations, providing a healthier and more pest-free environment.
Propagation Made Easy: Growing plants in water offers an excellent opportunity for propagating and expanding your plant collection. Many houseplants can be easily propagated from cuttings in water, allowing you to multiply your favorite plants without needing soil.
Stunning Displays: Growing plants in water opens up a world of creative possibilities for displaying your greenery. From vintage bottles and glass jars to wall-mounted vessels and propagation stations, you can create beautiful and unique arrangements that serve as captivating centerpieces in your home.
Now that we've explored the advantages of growing plants in water, let's delve into the practical aspects of hydroponic houseplant cultivation.
Choosing the Right Greenery: 21 Plants That Thrive in Water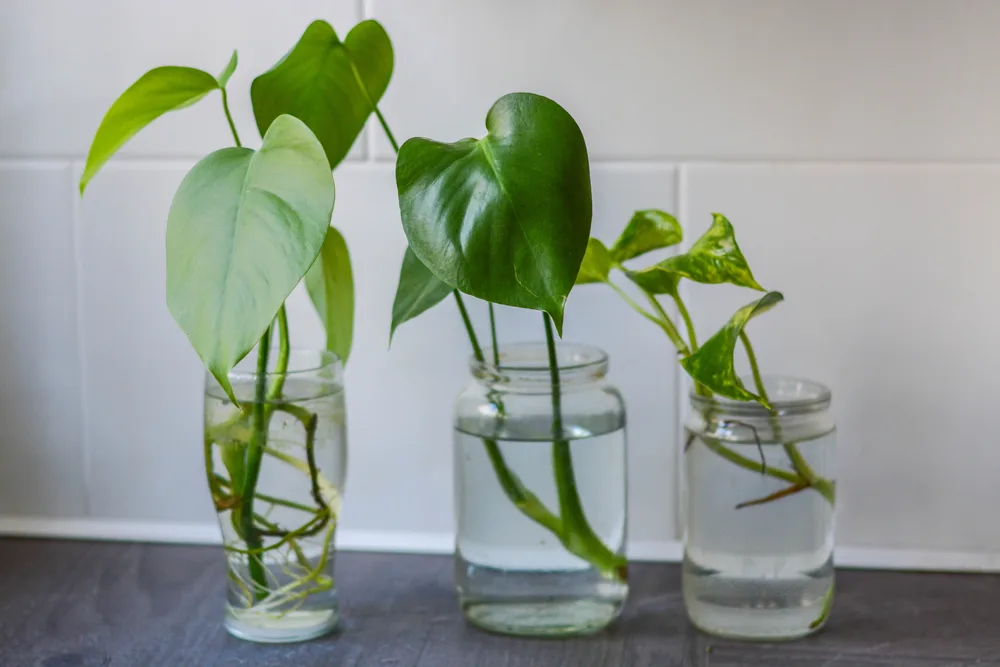 When it comes to choosing plants that grow in water, it's essential to select species that are well-suited to this unique growing method.
While many houseplants can adapt to water cultivation, some species thrive better than others. Here are some of the best plants to consider for your water garden:
1. Philodendron
Botanical Name: Philodendron
Philodendrons are renowned for their adaptability and resilience, making them an excellent choice for water-grown plants. Among the various Philodendron species, the heart-leaf philodendron (Philodendron hederaceum) is particularly well-suited to hydroponic cultivation.
To grow a heartleaf philodendron in water, take a 6-inch cutting right at the leaf node and place it in a clear glass jar or bowl with bright indirect light. Change the water every couple of days, and your philodendron will continue to thrive.
2. Lucky Bamboo
Botanical Name: Dracaena sanderiana
If you're looking for a low-maintenance and visually appealing plant, lucky bamboo is an excellent choice. Despite its name, the lucky bamboo plant is not actually bamboo but a species of Dracaena. This plant is incredibly forgiving and adapts well to growing in water.
To cultivate lucky bamboo in water, place a healthy stem with roots in a narrow vase or jar and add gravel for stability. Ensure the roots are submerged in fresh water regularly.
3. Pothos Vine
Botanical Name: Epipremnum aureum
Pothos is a popular choice for both beginner and experienced gardeners due to its lush foliage and ease of care. This vining plant thrives in water, making it an ideal candidate for hydroponic cultivation.
Select a clear fishbowl or vase of water, and place your pothos cutting ensuring the beautiful green leaves remain above the waterline. Change the water every few days to provide fresh oxygen to the roots and prevent stagnation.
4. Chinese Evergreen & Dumbcane
Botanical Name: Aglaonema & Dieffenbachia
Chinese evergreen (Aglaonema) and dumbcane (Dieffenbachia) are two tropical plants that can be successfully grown in water. These species feature variegated and leathery leaves, adding interest and beauty to your hydroponic garden.
To grow these evergreen plants in water, place cuttings in a transparent vase filled with small aquarium rocks. Change the water regularly to ensure optimal oxygen levels and prevent harmful bacterial growth.
5. Spider Plant
Botanical Name: Chlorophytum comosum
Spider plants are known for their unique arching foliage and the production of baby spiderettes, which can be effortlessly grown in water.
To grow a spider plant in water, place one of the spiderettes from the mother plant in a glass jar or dish of water, ensuring the roots in water are submerged. Spider plants are remarkably adaptable and can thrive in various light conditions, making them versatile for hydroponic cultivation.
6. Arrowhead Plant
Botanical Name: Syngonium podophyllum
The arrowhead plant, with its attractive arrow-shaped leaves, is an excellent type of plant for water cultivation. This popular houseplant is easy to grow in clean water with medium light around it.
Once the cutting develops new roots, you can choose to transplant it into potting soil or continue growing it in a jar of water.
7. Coleus
Botanical Name: Plectranthus scutellarioides
If you're looking to add a splash of color to your hydroponic garden, the coleus plant is the perfect choice. With its vibrant and serrated leaves, coleus can be grown in water, providing a stunning focal point in your indoor space.
Place the cuttings in a wine glass or decorative container of water, ensuring they receive indirect light. For enhanced growth, consider adding compost tea to the water.
8. Wandering Jew
Botanical Name: Tradescantia pallida
Wandering jews are hardy plants that thrive in warm climates. These plants feature stunning purple-colored and variegated varieties, making them a desirable addition to your home as aquatic plants.
Wandering jews can be grown in water, and terrariums are an ideal choice for their cultivation. Place the cuttings in a glass jar or container, ensuring the stems are submerged in water.
9. Dracaena
Botanical Name: Dracaena
Dracaena varieties are incredibly adaptable to hydroponic gardening, even thriving in water. To cultivate them in this way, opt for glass containers like jugs or narrow jars for a single leaf.
Ensure the water you use is chlorine and fluoride-free. It's essential to maintain water quality, so change it every two to three times a week. This routine refreshes the oxygen content and prevents water stagnation, promoting healthy growth.
10. Croton
Botanical Name: Codiaeum variegatum
Croton plants boast bold and colorful foliage, making them a striking addition to any hydroponic garden. While crotons may not grow permanently in water, you can use this method to root their cuttings.
Place the stem cutting in a glass jar or container filled with fresh water, ensuring the water is changed weekly to prevent rotting. Crotons are known for their vibrant colors and can add a lively touch to your indoor space.
11. Peace Lily
Botanical Name: Spathiphyllum spp.
Peace lilies are beloved for their elegant white blooms and air-purifying qualities. These graceful houseplants can also be cultivated in water, provided they receive ample indirect light.
A clear vase or water-filled jar is excellent for your peace lily cutting. Regularly changing the water ensures a healthy growing environment.
12. Monstera
Botanical Name: Monstera deliciosa
Monstera, with its iconic split leaves, can be grown in water relatively well. Choose a glass container to showcase the intriguing root development.
Frequent water changes and indirect light support monstera's journey from a cutting to a thriving indoor plant. You can combine different Monstera species in one jar to showcase the diversity and gorgeous green foliage.
13. ZZ Plant
Botanical Name: Zamioculcas zamiifolia
ZZ plants are celebrated for their resilience and ability to thrive in low-light conditions. They can also adapt to growing in water.
Place ZZ plant cuttings in a vase with water, ensuring the roots are submerged. You can add some rocks at the bottom to submerge the roots and give it some style. This low-maintenance plant can beautify your space while requiring minimal attention.
14. Tradescantia
Botanical Name: Tradescantia spp.
Tradescantia, also known as spiderwort or inch plant, is ideal for hydroponic growth. Place cuttings in a glass container with water, and you'll witness the rapid development of roots. Keep the water fresh and enjoy the trailing beauty of this resilient indoor plant.
15. Coleus
Botanical Name: Plectranthus scutellarioides
If you're looking to add a splash of color to your hydroponic garden, coleus (Solentia) is the perfect choice. With its vibrant and serrated leaves, coleus can be grown in water, providing a stunning focal point in your indoor space.
Place the cuttings in a wine glass or decorative mason jar filled with water, ensuring they receive indirect light. For enhanced growth, consider adding compost tea to the water.
16. English Ivy
Botanical Name: Hedera helix
English ivy, with its lush and cascading vines, can be propagated in water. Place ivy cuttings from a parent plant in a clear container with water, and they will develop robust roots.
This versatile plant adds a touch of greenery and elegance to your indoor space. Remember to change the water regularly to maintain a healthy environment for your growing ivy.
17. Nasturtium
Botanical Name: Tropaeolum majus
Nasturtiums are not only attractive but also edible, making them a delightful plant to grow in water. Place nasturtium cuttings in water and watch as they develop roots.
These vibrant flowers add color and a peppery kick to salads and other culinary creations.
18. Lemon Balm
Botanical Name: Melissa officinalis
Lemon balm is a fragrant herb known for its calming properties. It can thrive in water-based hydroponics. Place lemon balm cuttings in a glass container with water, ensuring they receive plenty of light. The healthy stocks are perfect for tea or as a garnish for desserts.
19. Sage
Botanical Name: Salvia officinalis
Sage, an aromatic herb, can be rooted in water for indoor herb gardening. Place sage cuttings in a clear glass container with water, ensuring they receive bright, indirect light. Fresh herbs are a delightful addition to your culinary endeavors.
20. Lavender
Botanical Name: Lavandula spp.
Fragrant and versatile, lavender can be rooted in water for indoor cultivation. Choose a clear glass container and place on a kitchen windowsill to watch the roots grow and smell its soft scent. Lavender cuttings in water can make for a lovely addition to your indoor herb garden.
21. Sweet Potato Vine
Botanical Name: Ipomoea batatas
Sweet potato vines offer more than just edible tubers; they also make stunning ornamental plants with their vigorous growth and lush foliage. Growing sweet potato vines in water is not only a great way to appreciate their lush greenery indoors but also a fascinating horticultural endeavor.
Sweet potato slips, which are young vine cuttings, can be placed in water to encourage root development. This method allows you to enjoy the full beauty of their foliage without the need for a traditional soil-based garden.
These plants offer a diverse range of colors, scents, and uses, allowing you to create a vibrant and productive hydroponic garden indoors. Remember to change the water regularly, provide appropriate lighting, and enjoy the beauty and benefits these plants bring to your living space.
Choosing the Right Containers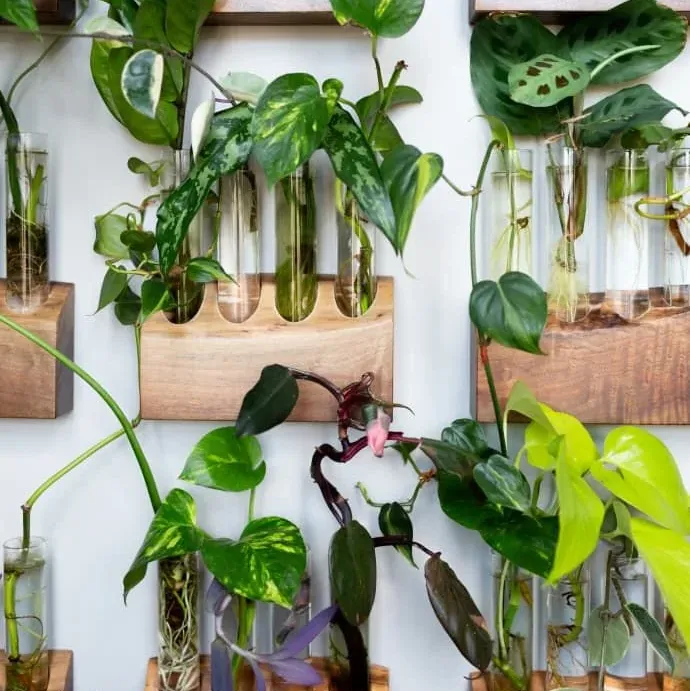 When it comes to choosing containers for your hydroponic houseplants, the options are endless. Here are some ideas to inspire you:
Glass Vases
Vintage bottles, beer and soda bottles, or even fancy liquor bottles can be repurposed as whimsical vases for your indoor plants. Visit thrift stores or repurpose glass containers from around your home for a unique and eco-friendly option.
Glass Jars
If you have a collection of empty pasta jars or mason jars lying around, repurpose them as practical containers for your water-grown cuttings. These versatile containers provide ample space for roots to grow and can easily be customized with decorative elements.
Drinking Glasses
Don't throw away those chipped glasses! Repurpose them for growing plants in water. You can also find vintage one-off glasses in pretty colors and patterns at thrift shops, adding a touch of elegance to your hydroponic garden.
Test Tubes
Test tubes, whether actual laboratory equipment or decorative versions designed for home decor, make excellent containers for displaying single stems or propagating cuttings. Their narrow shape ensures the stems remain upright, creating an eye-catching arrangement.
Propagation Stations
Tabletop displays featuring test tubes, bulbs, and vases allow you to arrange all your cuttings as an attractive centerpiece. These propagation stations not only provide a practical way to grow plants in water but also serve as a decorative element in your living space.
Wall Vessels
For a unique and artistic approach to growing plants in water, consider wall-mounted test tubes, vases, globes, terrariums, and other vessels. These wall-mounted displays transform your houseplant collection into a work of art and can be placed on any wall in your home.
Bulbs
Don't overlook the potential of old lightbulbs! With a bit of creativity, you can repurpose them as containers for small cuttings. Hang them on a wall or suspend them from the ceiling for a truly unique and eye-catching display.
Vases
You can use vases of any size and material, from clear glass to glazed ceramic, as long as they are watertight. Opt for vases with narrow necks when displaying single stems to help keep them upright.
Aquariums
If you have an aquarium, it provides an ideal environment for growing houseplants hydroponically. Secure the plants in such a way that only the roots are submerged, with the stems and foliage above the water. The fish waste acts as a natural source of nutrients, ensuring healthy plant growth.
Remember, while the choice of water vessel doesn't necessarily need to be transparent, being able to observe the root system and reveal parts of the plant not normally visible adds to the enjoyment of growing plants in water.
However, transparent containers also make any algae growth visible. To prevent algae growth, we'll discuss effective methods in the care section.
With the right containers selected, it's time to address an important consideration in the success of your hydroponic houseplants: water quality.
Ensuring the Right Water Quality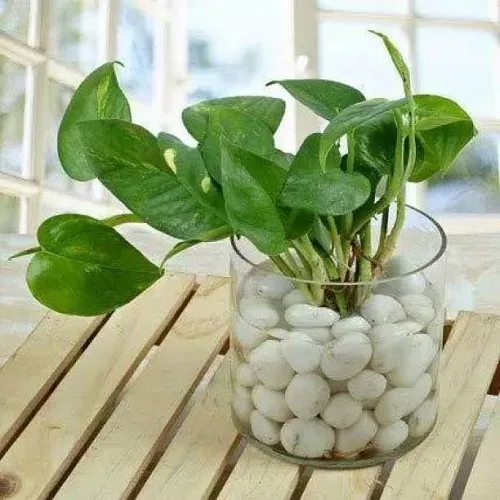 When it comes to growing plants in water, the quality of the water you use plays a crucial role in their overall health and growth. Here are some key points to keep in mind regarding water quality:
Tap Water
In most cases, regular tap water is suitable for growing plants in water. However, if your tap water is of poor quality or contains high levels of chlorine or chloramine, it may be necessary to take some precautions.
It is recommended to let tap water sit for 24 hours before using it for your plants in order to allow the chlorine and chloramine to naturally dissipate.
Alternatively, water dechlorinators can be used, which are available at aquarium stores, to neutralize these compounds.
Well Water
If you rely on well water for your plants, it's essential to test its quality. Well water can vary significantly in mineral content and pH levels, impacting plant growth.
If your well water is of poor quality or contains excessive minerals, consider using alternative water sources or installing a water filtration system to improve its suitability for your plants.
Rainwater
Collecting rainwater is an excellent option for growing plants in water. Rainwater is naturally unchlorinated water and free of other chemicals found in tap water, making it an ideal choice for maintaining optimal water quality.
However, be mindful of potential pollutants or contaminants that may be present in rainwater, especially if you live in an urban area.
Bottled Water
If you prefer to use bottled water for your hydroponic plants, ensure that you choose brands that are not low in minerals.Look for bottled water with balanced mineral content to provide your plants with the necessary nutrients.
Avoid using distilled water or reverse osmosis water, as they lack essential minerals and can deprive your plants of nutrients.
By taking these factors into consideration and providing your plants with water of suitable quality, you can ensure their optimal growth and health.
Now that you understand the importance of water quality, let's move on to the next crucial aspect of growing plants in water: light requirements.
Meeting the Light Requirements
Light is an essential element for plant growth, and providing the right amount and intensity of light is crucial for the success of your hydroponic houseplants. Here are some key points to consider regarding light requirements:
Indirect Light: Most plants that grow in water thrive in bright, indirect sunlight conditions.
Placing them near a window that receives filtered sunlight or using sheer curtains to diffuse the light is ideal.Avoid placing your plants in direct sunlight, as it can overheat the water and cause damage to the plant's foliage.
Light Intensity: Different plant species have varying light intensity requirements. Some plants can tolerate lower light levels, while others require more intense light to thrive.Research the specific light requirements of the plants you choose for your hydroponic garden and ensure that they receive adequate light for their optimal growth.
Light Duration: Plants require a certain number of hours of light each day to carry out photosynthesis effectively.On average, most houseplants require around 12-16 hours of light per day. Consider using timers or smart plugs to provide a consistent light schedule for your plants, ensuring they receive the necessary light for their growth.
Avoid Drafts: While it's important to provide your hydroponic houseplants with adequate light, it's equally important to avoid exposing them to drafts or extreme temperature fluctuations.Placing your plants near drafty windows or in areas that experience frequent temperature changes can stress the plants and affect their overall health.
Algae Control: One common issue with growing plants in water is the growth of algae. Algae thrive in the presence of light and can quickly overtake your containers if not properly controlled.To prevent algae growth, consider using opaque containers or dark-colored glass that limits light exposure. Additionally, you can use natural remedies such as adding a small amount of hydrogen peroxide to the water or covering the containers with a cloth for a week to starve the algae of light.
By providing the right amount of light and ensuring optimal conditions for your hydroponic houseplants, you can promote their growth and overall health.
Now that you have a solid understanding of light requirements, let's explore how to care for your plants to ensure their continued success.
Essential Care Tips for Hydroponic Houseplants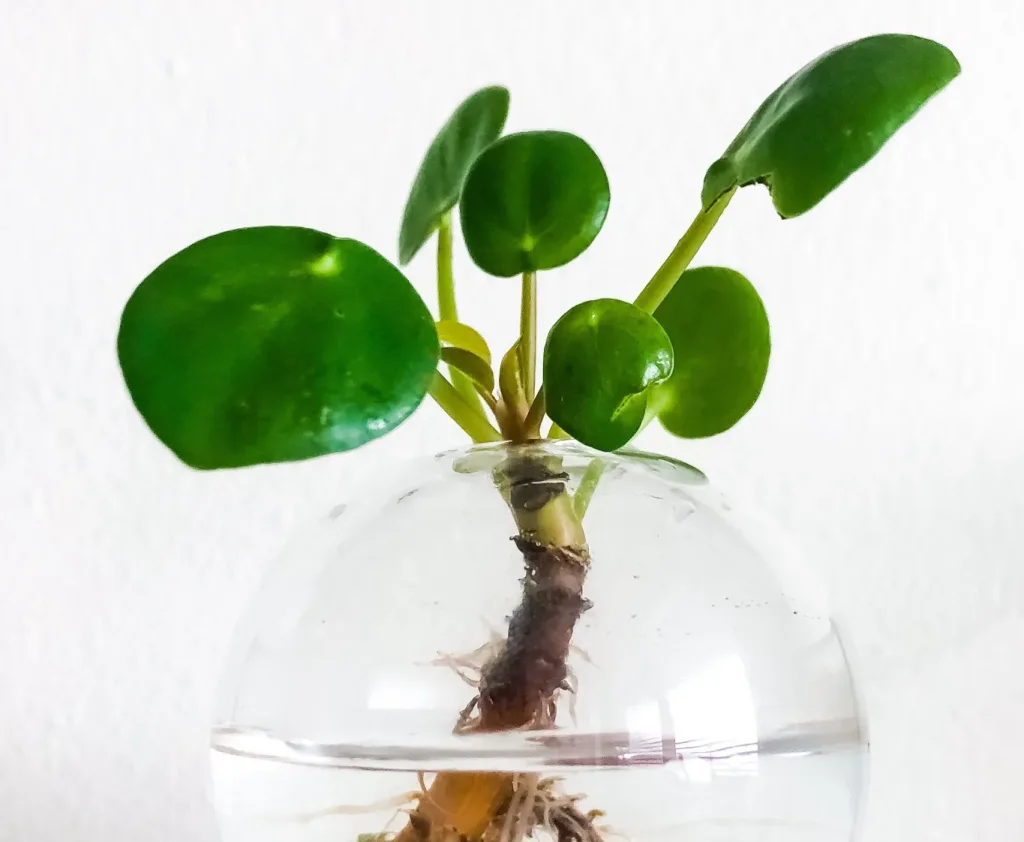 While growing plants in water simplifies the care process, there are still essential steps to follow to ensure the health and well-being of your hydroponic houseplants. Here are some crucial care tips to keep in mind:
Water Level Maintenance
Regularly monitor the water level in your containers and ensure that the roots remain submerged. As water evaporates over time, replenish it to maintain the proper water level. Avoid overfilling the containers, as excess water can lead to root rot and other issues.
Water Change Frequency
Change the water in your containers every 1-2 weeks or whenever it becomes cloudy or smelly. Regular water changes prevent the buildup of harmful bacteria and algae, ensuring a clean and healthy environment for your plants.
Nutrient Supplementation
While water provides the necessary hydration for your plants, it may lack essential nutrients found in soil. Consider supplementing your hydroponic plants with a balanced liquid fertilizer formulated for hydroponic systems.
Follow the manufacturer's instructions for proper application and dosage.
Monitor Root Health
With plants growing in water, it's easier to monitor the health of their roots. Regularly inspect the roots for any signs of discoloration, rot, or damage.
Healthy roots should appear white or creamy in color. If you notice any issues, take immediate action to prevent further damage to the plant.
Pruning and Maintenance
Like any other houseplants, hydroponic plants may require occasional pruning to maintain their shape and prevent overcrowding.
Remove any dead or yellowing leaves, trim overgrown stems, and maintain a balanced and aesthetically pleasing appearance.
Preventing Pests
Although soilless houseplants are less prone to pests compared to soil-grown plants, it's still important to remain vigilant. Regularly inspect your plants for any signs of pests such as aphids or spider mites.
If you notice any pests, isolate the affected plant and treat it with an appropriate insecticide or natural pest control methods.
Root Health Monitoring
As the roots are the lifeline of your hydroponic plants, it's crucial to ensure their health and well-being. Regularly check for root growth and adjust the water level accordingly.
If the roots become overcrowded or tangled, consider transplanting the plant into a larger container or dividing it into multiple containers.
Additional Tips and Ideas for Aquatic Gardening
Experiment with Different Plants: While we have provided a list of recommended plants for hydroponic cultivation, don't be afraid to experiment with other species. Many houseplants can adapt well to water growing, and you may discover new favorites along the way.
Combine Different Species: Create captivating displays by combining different species in a single container. Mix plants with varying colors, textures, and growth habits to create visually stunning arrangements.
Create a Waterfall Effect: Cascading plants, such as pothos and heart-leaf philodendron, can be grown in water and provide a beautiful waterfall effect. Place these plants in elevated containers or hanging baskets to showcase their trailing foliage.
Add Organic Matter: Enhance the nutrient content of the water by adding organic matter such as compost tea or vermicompost tea. These natural fertilizers provide essential nutrients to your plants, promoting healthy growth. You can also add a commercial water-soluble fertilizer about once a month.
Consider Aquaponics: If you're looking to take your hydroponic gardening to the next level, consider exploring aquaponics. Aquaponics combines hydroponics with aquaculture, utilizing fish waste as a nutrient source for the plants. This symbiotic relationship creates a self-sustaining ecosystem and reduces the need for additional fertilizers.
Rotate Containers: To ensure even growth and prevent lopsided or uneven development, rotate your containers periodically. This allows all sides of the plant to receive consistent light exposure and promotes balanced growth.
Engage in Community: Join online gardening communities or local gardening groups to connect with fellow hydroponic gardeners. Share your experiences, ask questions, and learn from each other's successes and challenges. Gardening is more enjoyable when shared with others who share your passion.
With these additional tips and ideas, you can take your hydroponic gardening to new heights and explore the endless possibilities of water cultivation.
Whether you're a beginner or an experienced gardener, growing plants in water offers a unique and rewarding way to nurture your green thumb and create a vibrant indoor oasis.
Final Thoughts
Growing plants in water opens up a world of possibilities for indoor gardening. Whether you're a busy individual looking for low-maintenance plants or an avid gardener seeking new ways to expand your collection, hydroponic houseplants offer a convenient and visually appealing solution.
From the versatile pothos to the vibrant croton, the options are endless when it comes to choosing plants that thrive in water. By providing the right containers, maintaining water quality, and ensuring adequate light and care, you can create a thriving hydroponic garden that brings life and beauty to your indoor space.
So, why wait? Dive into the world of hydroponic gardening and experience the joy of nurturing plants that grow in water. 🌱💧